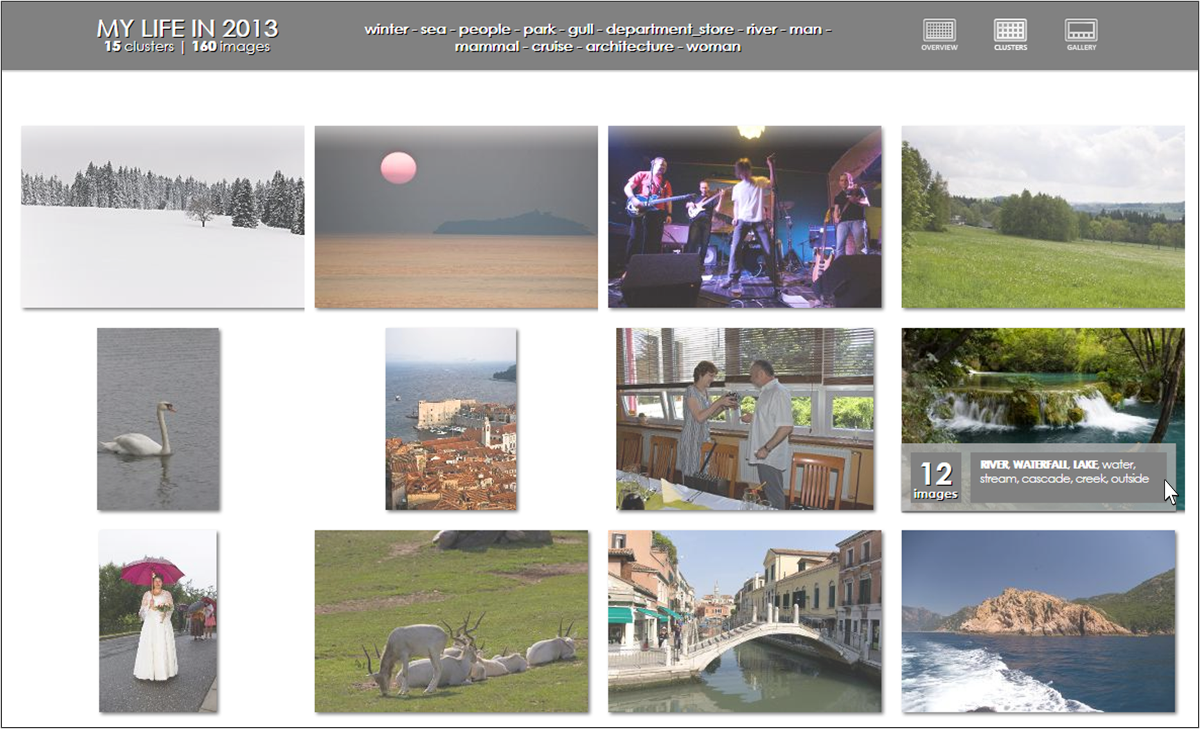 Effective management of multimedia data is becoming vital for success in the modern era of omnipresent data. Summarization tools, which allow users to quickly get the gist of a given data collection and have proven their usefulness in text domain, are now gaining popularity also in multimedia processing. However, existing algorithms provide visual-only summaries for image collections, which are difficult to index and search.
The CLAN (cluster & annotate) Photo Presenter is the first prototype software tool that allows creating multimodal summaries of image collections. By combining traditional clustering methods and a recent image-annotation tool, the CLAN Photo Presenter is able to create text-and-visual representations of personal photo collections. The summarized collection is displayed as a web page, which allows users to view the summary as well as browse the collection in a lively, user-friendly way. The keyword summary improves the findability of the collection.
Application description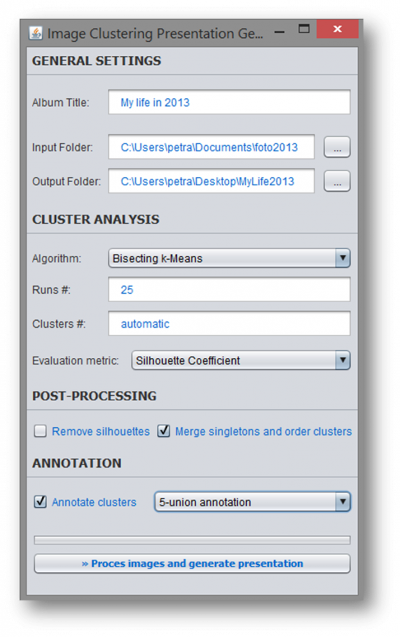 The CLAN Photo Presenter is a desktop application, which will transform a plain folder with photos into an interactive web presentation of a given collection. When opened, the CLAN Photo Presenter application displays a single window where all settings can be comfortably set. The first set of fields allows users to select the presentation title, the directory with source images and the output directory where the presentation will be generated. These general settings are mandatory. All additional parameters are set to reasonable defaults, so for a quick start, the "process" button at the bottom can immediately be pressed. When finished, the application displays an information window and opens the created presentation in a browser.
All remaining fields contain advanced settings. The second block allows users to adjust the clustering phase. After selecting the preferred algorithm, it is possible to specify the number of clustering iterations and the evaluation metric used to select the optimal clustering. For the k-Means and Bisecting k-means algorithms, users can also specify the required number of clusters. The adjacent post-processing block then provides controls for the two cluster refinement procedures – outlier removal and small cluster merging. Finally, the last set of controls allows to enable the annotation process and select the number of cluster representatives to be used.
License
The presented software tools are the result of the project GBP103/12/G084 (Czech Science Foundation programme). The owner of the result is Masaryk University, a public high school, ID: 00216224. Masaryk University allows other companies and individuals to use this software free of charge and without territorial restrictions under the terms of the GPL v3 license.
This permission is granted for the duration of property rights.
This software is not subject to special information treatment according to Act No. 412/2005 Coll., as amended. In case that a person who will use the software under this license offer violates the license terms, the permission to use the software terminates.
Download
CLAN Photo Presenter for Windows (10MB)
CLAN Photo Presenter for Linux (10MB)
Example summaries
| | |
| --- | --- |
| Collection description | Manually selected collection of 160 images, distinct topics |
| Clustering method | Bisecting k-means clustering, 16 clusters, 10 runs, Silhouette coefficient |
| Postprocessing | none |
| Annotation method | 2-union annotation |
| Processing time | 4.2 minutes |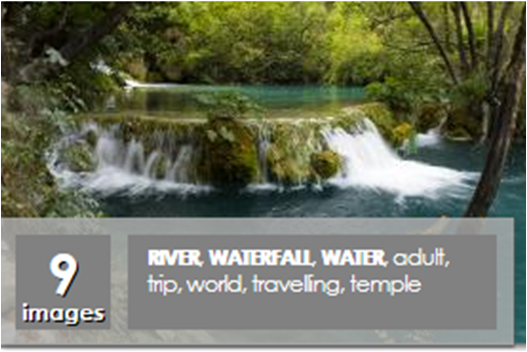 | | |
| --- | --- |
| Collection description | Manually selected collection of 160 images, distinct topics |
| Clustering method | Bisecting k-means clustering, 16 clusters, 25 runs, Silhouette coefficient |
| Postprocessing | Singleton merging |
| Annotation method | 5-union annotation |
| Processing time | 6.4 minutes |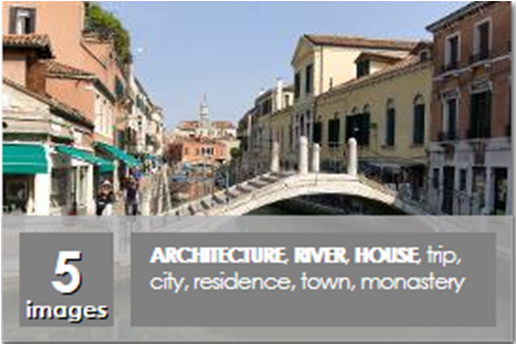 | | |
| --- | --- |
| Collection description | Manually selected collection of 160 images, distinct topics |
| Clustering method | dKNN Centroid clustering, 50 runs, Silhouette coefficient |
| Postprocessing | Outlier removal, Singleton merging |
| Annotation method | 3-union annotation |
| Processing time | 6 minutes |
| | |
| --- | --- |
| Collection description | 184 photos from a holiday in Scotland |
| Clustering method | k-means clustering, automatic number of clusters, 50 runs, Dunn Index |
| Postprocessing | Outlier removal, Singleton merging |
| Annotation method | 3-union annotation |
| Processing time | 3.2 minutes |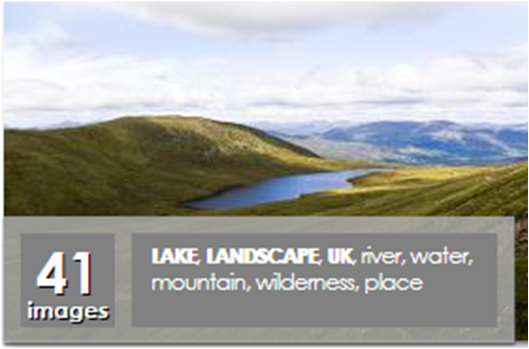 | | |
| --- | --- |
| Collection description | 426 high-resolution photos from a trip to Barcelona |
| Clustering method | Distinct kNN clustering – Centroid, 25 runs, Davies Bouldin Index |
| Postprocessing | Singleton merging |
| Annotation method | 2-union annotation |
| Processing time | 32 minutes (costly preprocessing of large photos – 26 minutes) |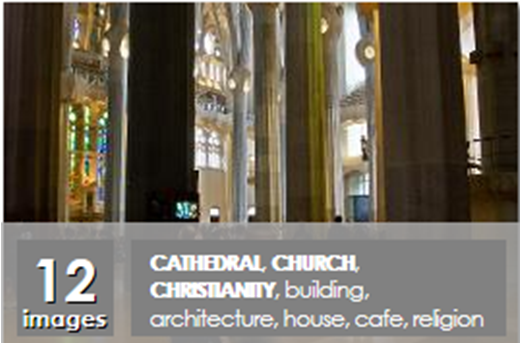 | | |
| --- | --- |
| Collection description | 655 photos from a holiday in Turkey |
| Clustering method | k-means clustering, 25 clusters, 25 runs, Davies Bouldin Index |
| Postprocessing | Singleton merging |
| Annotation method | 3-union annotation |
| Processing time | 16.6 minutes |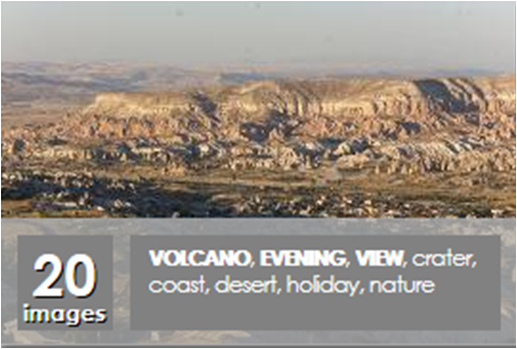 Related publications
M. Batko, P. Budikova, P. Elias, P. Zezula: CLAN Photo Presenter: Multi-modal Summarization Tool for Image Collections. ICMR 2014